Bigger than moose, bigger than grizzly bears, buffalo are the biggest animals in North America.
And Badlands National Park is a place where the mighty bison still roam, offering the opportunity to see the iconic American giant on its native grassland plains.
Around 1200 buffalo live in the park and visitors can expect to get a good glimpse around the Pinnacles entrance station and along Sage Creek Rim Road down to Sage Creek Basin.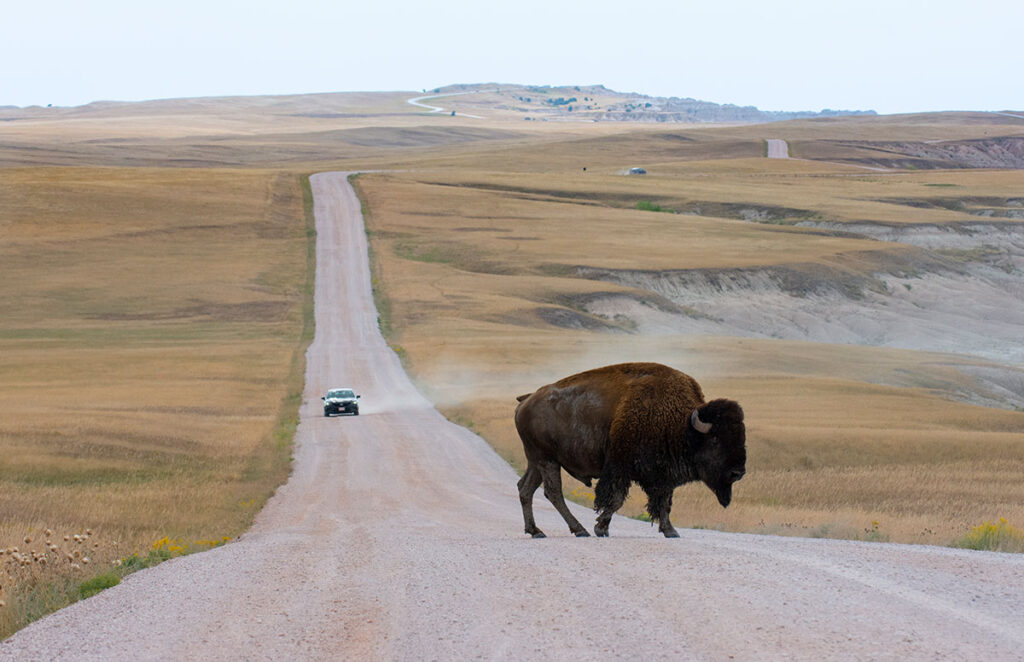 Before European settlement, there were tens of millions of buffalo living on the Great Plains. But they were nearly hunted to extinction in the late 1800s as the United States spread west. Today there's only a few places where you can see them thrive again.
When I was there, buffalo could be seen along Sage Creek Rim Road, but not on the Badlands Scenic Loop Road. Several could be seen on consecutive days near the park's Pinnacles entrance station on the road from Wall.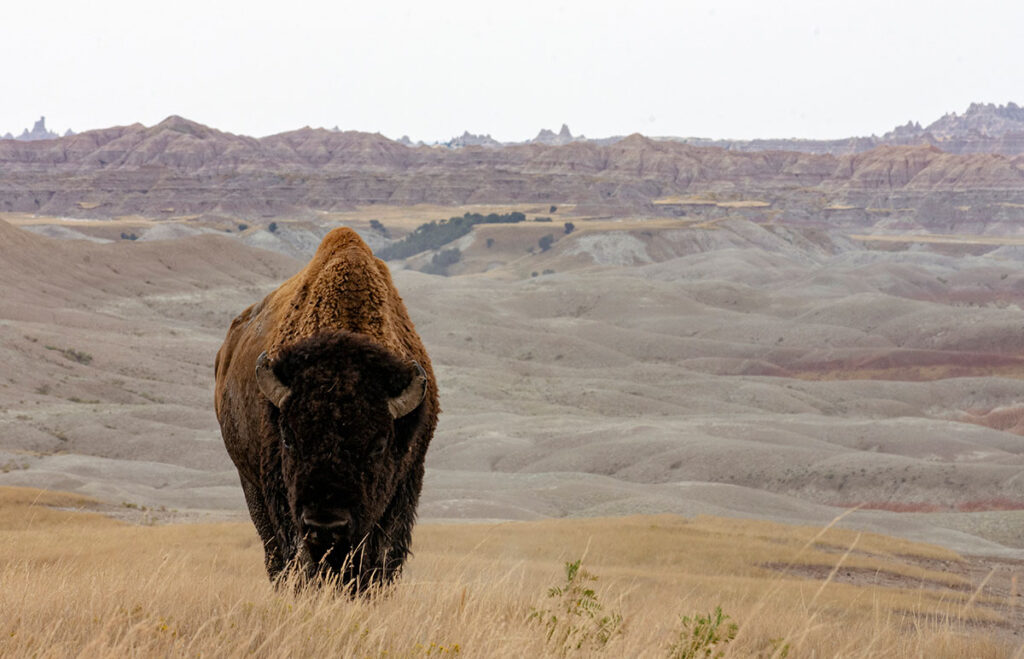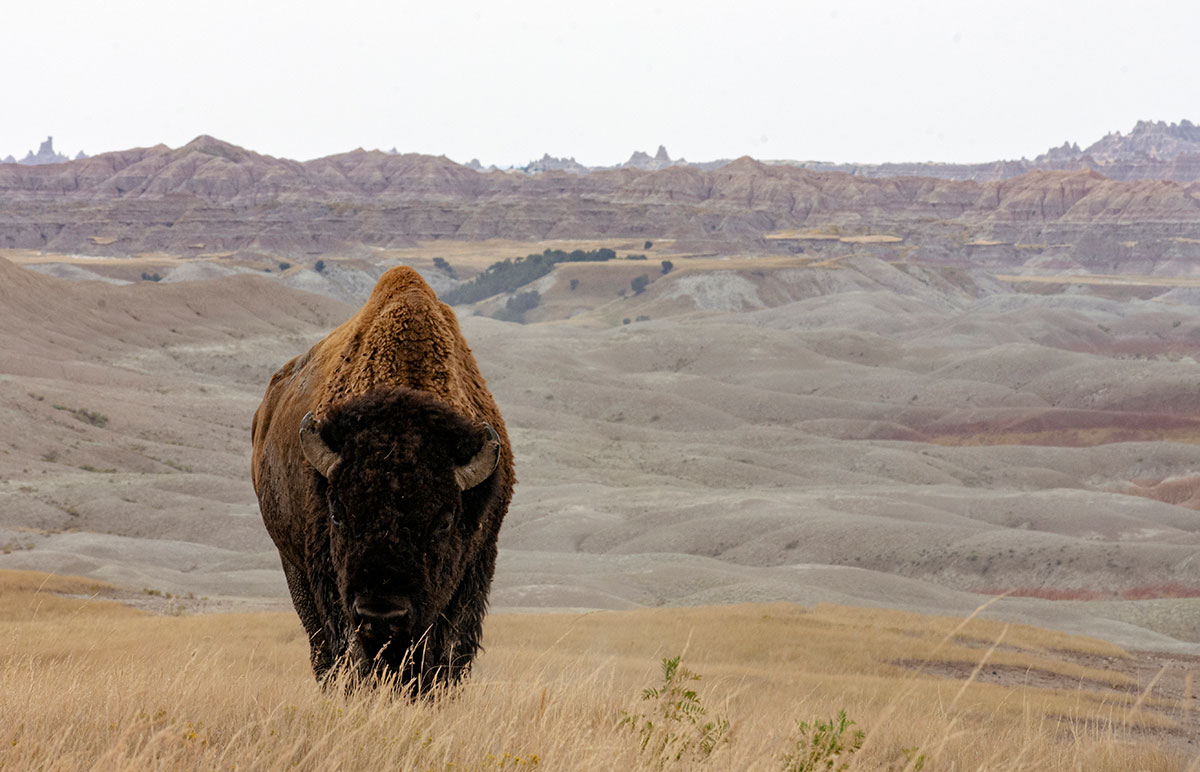 Most buffalo were a safe distance from the road, but on three occasions in 24 hours I experienced close encounters while driving. Twice a buffalo was grazing right on the side of the road and did not appear at all bothered by cars. I saw one person get out of their car and get much closer to one than I would for a picture. Just this year, a tourist in Yellowstone was gored by a buffalo. Keep a safe distance.
SOUTH DAKOTA BISON
South Dakota is proud to host more free-roaming buffalo on public lands than any other state.
Another large population can be found at Custer State Park and Wind Cave National Park in the Black Hills. The bison in the Black Hills outnumber the bison at Badlands National Park.
BADLANDS WILDLIFE
Besides the bison, wildlife in the park is abundant. There's a prairie dog colony that stretches for miles. Bighorn sheep are common. I saw a dozen mule deer -all with huge antlers – sprinting across the prairie.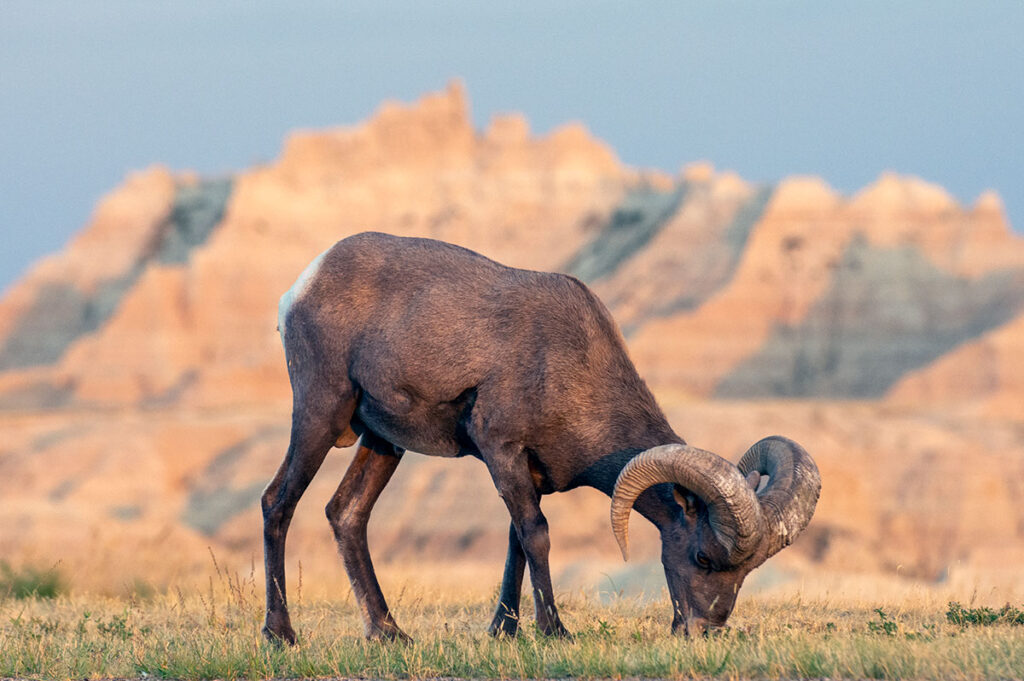 I also saw pronghorn antelope, sage hen, porcupine, and a fox. All within 24 hours. As always, the best time to see wildlife is early in the morning and late in the evening. A drive soon after dark can be productive too, just drive extra slow.

My Badlands trip was part of a greater summer road trip to South Dakota and Wyoming. Find more stories here.
RESOURCES FOR YOUR VISIT
Badlands National Park "Things to Do"
Badlands National Park Ben Reifel Visitor Center
Bison Wikipedia Page
Custer State Park Bison Center