The Philippines isn't exactly known for fine cuisine or delectable edibles. But that's not to say that eating in the Philippines is a challenge for travelers, or that there aren't great food experiences to be had.
In fact, for me it was a treat to feast on basic staples such as rice, fish, and grilled meats. I kept it simple and took advantage of the always tasty – though admittedly sometimes sketchy – street food that is widely available. Most of the time I was eating meals with a banana shake or cold San Miguel for $3US or less. I was eating on a small budget without even really trying.
The barbecue pork skewers plus sticky rice became my go-to meal. They were consistently cheap, delicious, and easy to find. The street vendors also had great curries, adobo, and endless rice to offer.
If you are looking for more of sit-down restaurant that has western food and a waiter, then expect to pay two to three times or more for your meals. And don't expect it to be very good. For those traveling on a budget, you can realistically get by for less than $10 US or $500 PhP per day. If you are utilizing the markets for meals, then you can make it by for even less.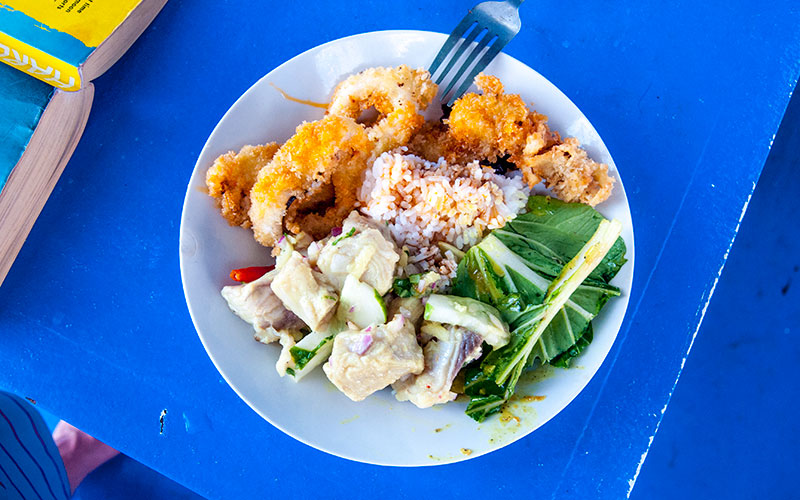 For the five days that I was involved with the Tao Expedition, I ate much more gourmet. Their daily menu of meals were delicious and drew from local food sources. The Tao trip is a five-day, four night boat trip from Coron to El Nido. We slept in beach camps each night and casually completed the 152-mile trip by day. Food highlights included wahoo ceviche, green papaya salad, coconut and banana fritters, and a whole roast pig on the final night.
TRADITIONAL FOOD
My first night in the Philippines was a special one. I met a group of local Filipinos at the roof top bar of the hotel where I was staying. My initial introduction to the Filipino people could not have been warmer as these three – Marcos, Mao, and Jen – took me to a late-night restaurant that was known for its Bulalo, a stew made with beef shank and bone marrow. They also ordered these tiny dried silver fish that you popped into your mouth whole. There was pancit and pork adobo, and of course plenty of rice. By the time we were done, it was past 4 a.m.
The meal was terrific.
BALUT
An article about food in the Philippines wouldn't be complete without talking about balut. If you're traveling to the Philippines, there's no doubt that you'll hear about it. It's one of those foods that you might see on TV called "Strange Things People Eat." Balut is a boiled chicken egg that has a partially developed chick inside. In many cases you can actually see some of the chicken parts, like feet or head, when you're eating it. The good news is that it looks worse than it tastes. Just put a little salt or vinegar on it and go for it. You'll be able to proudly say that you tried it when you return home.
OBSERVATIONS
Take advantage of the abundance of fresh seafood and tropical fruit. Enjoy the sweet calamansi lime that seems to be everywhere. Locally grown cashews proved to be an excellent travel snack for long bus or boat rides. Visit a Filipino bakery… the sweetbreads are awesome!!
If you're going ultra cheap, then definitely find the closest market. Your dollar will go a long ways in there.