It's like a scene from a fairy tale. Flowers in every direction, stretching as far as the eye can see.
That's what hiking through Walker Canyon is like during a rare wild flower super bloom.
The short-lived explosion of wild flowers is truly a sight to see. Lasting only a few weeks at a time, and sometimes only once or twice every 10 years, flowers cover just about every inch of green space in the canyon. Mostly made of orange poppies, there's some areas of bright yellow and deep purple mixed in.

As you can imagine, the insane natural beauty attracts a crowd. Hiking Walker Canyon is normally not a big deal. During a super bloom, however, it's a different story.
The crowds can be so large that they become overwhelming, especially on the weekends. Parking is a nightmare. A police officer stationed at the trailhead that I talked to estimated 20,000 visitors would come on a weekend day at the height of the bloom.
Try to go on a weekday if possible and know that 80 percent of the crowd aren't hikers and won't go more than a little ways up the trail. Once you get past a mile, the crowds evaporate and the incredible scenery can be enjoyed without the bedlam.
Walker Canyon's main trail is a fire road that gradually climbs into a hilly bowl with trails off-shooting to various ridgelines and hill tops. There is no shade, making summer hikes uncomfortable in the heat. Officially the trail is a 3.5-mile there-and-back, but the trail network through the Temescal Mountains is extensive and longer routes can be found.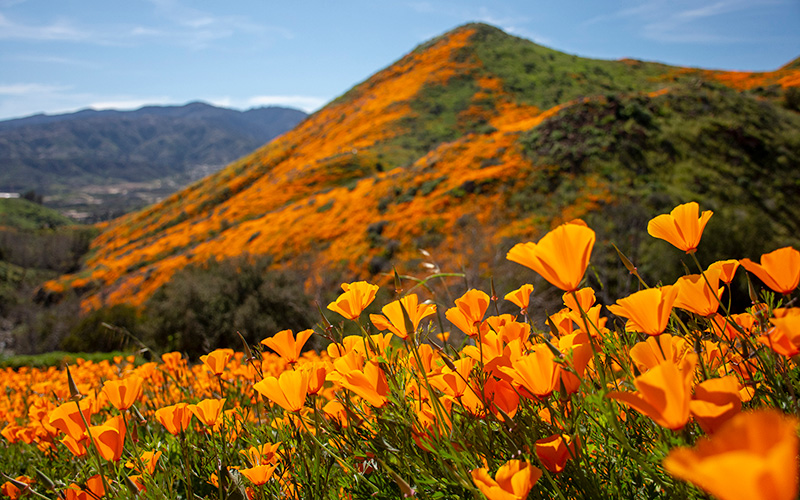 The Walker Canyon hiking area is in Temescal Hills near Lake Elsinore, California. There are a pair of trail heads accessed from Walker Canyon Road along Interstate 15.
On the other side of Interstate 15, to the west towards the ocean, is Cleveland National Forest. The town of Lake Elsinore is just 2 miles to the south on I-15.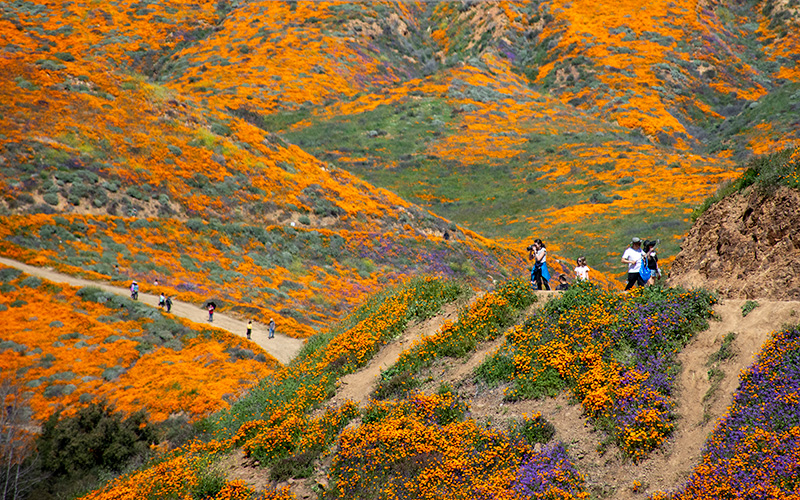 Other well-known super bloom locations are Antelope Valley Poppy Preserve, Anza-Borrego Desert State Park, Death Valley National Park, Figueroa Mountain, and Carrizo Plain National Monument.