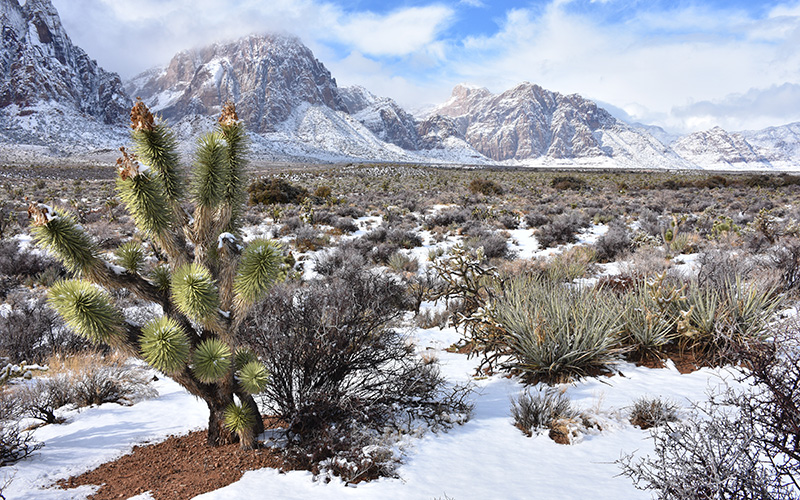 Snowy Las Vegas is more common than you might think.
While it's admittedly rare for it to snow on the Strip, the mountains to the west of the city are normally snow-capped for most of winter. There is even skiing at nearby Lee Canyon on Mt. Charleston.
Summerlin, on the western slope of the Las Vegas valley, records measurable snowfall almost every year.
But the strip sometimes goes years without seeing measurable amounts of snow. The one-day record came in 1979 when it snowed more than seven inches at McCarran Airport.
After 1979, it took another 29 years until there was another one-day snowfall over three inches in 2008.
It has more to do with a lack of precipitation than temperature. Las Vegas is the driest city in America.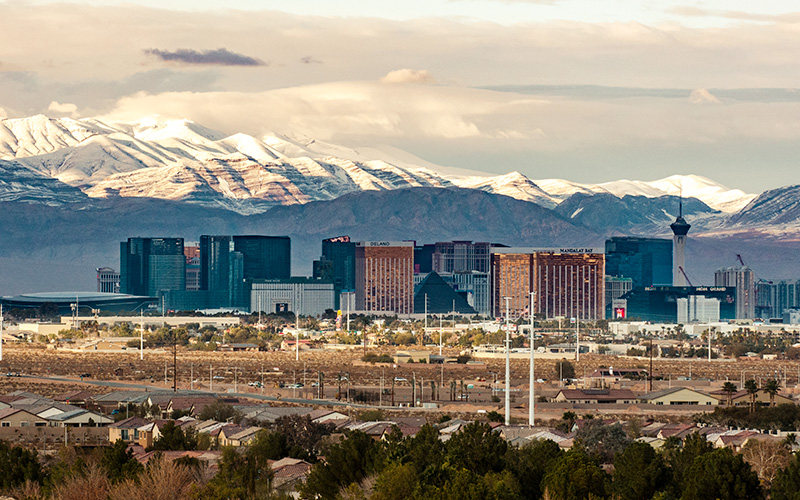 December and January are generally pretty cold relative to the blazing hot summers.
The city's average monthly temperature for December is a high of 60 and a low of 27. For January it's 59 and 28. So even if snow isn't in the forecast, definitely bring a warm coat to handle the winter cold.
RED ROCK CANYON NATIONAL CONSERVATION AREA
The western flank of the Las Vegas Valley turns into a winter wonderland when the snow level drops to about 3,500 feet. The desert is beautiful covered in a blanket of snow, accentuating the Joshua trees and the red sandstone mountain cliffs.
Red Rock Canyon NCA is great anytime of year but the snow gives it a special look. If the Scenic Loop is closed, there are places to stop on highway 159.

SKIING AT LEE CANYON
The elevation gain from the desert floor to Lee Canyon is impressive. Las Vegas' elevation is 2,000 feet. The base of the ski area is at 8,660 feet and the summit is at 11,289.
Skiers and snowboarders are serviced by three lifts and 27 trails.
Click here for current snow and weather conditions at Lee Canyon.
Lower in the canyon, at Lee Meadows, there is a popular area for sledding and playing in the snow for Las Vegas locals.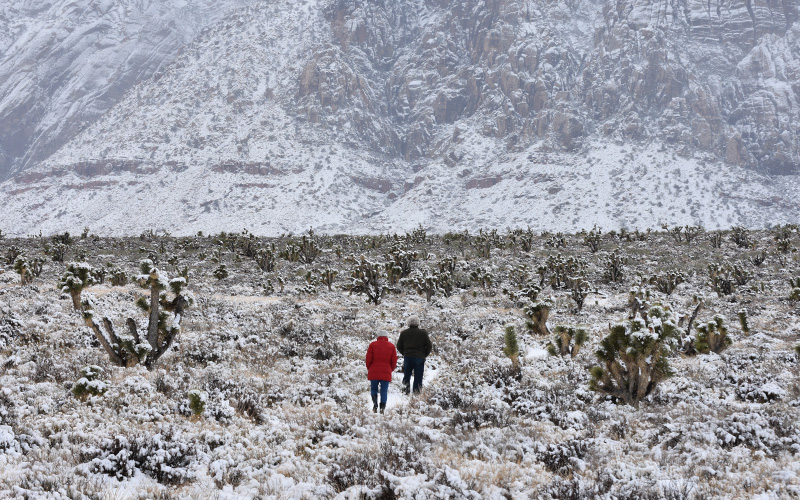 SKI RESORTS NEAR LAS VEGAS
Lee Canyon is great, but it's not a world-renowned ski mountain. So Las Vegas residents have to travel a bit further to reach the larger ski resorts. Closest is Brian Head in Utah. It's a little more than three hours driving in good weather.
It's 3.5 hours to the ski resorts in Southern California's San Bernardino Mountains, like Bear Mountain, and a five-hour drive to Mammoth.