Want waterfalls? Costa Rica waterfalls??
Why of course you do.
For those who travel to the northern part of Costa Rica, La Fortuna Waterfall is exactly what you're looking for.
Bursting off a cliff from the thick jungle, La Fortuna pours 200 feet (70 meters) into a deep swimming hole where people can cool off in the water or take pictures from the surrounding rocks.
It's truly a picturesque waterfall as far as waterfalls go.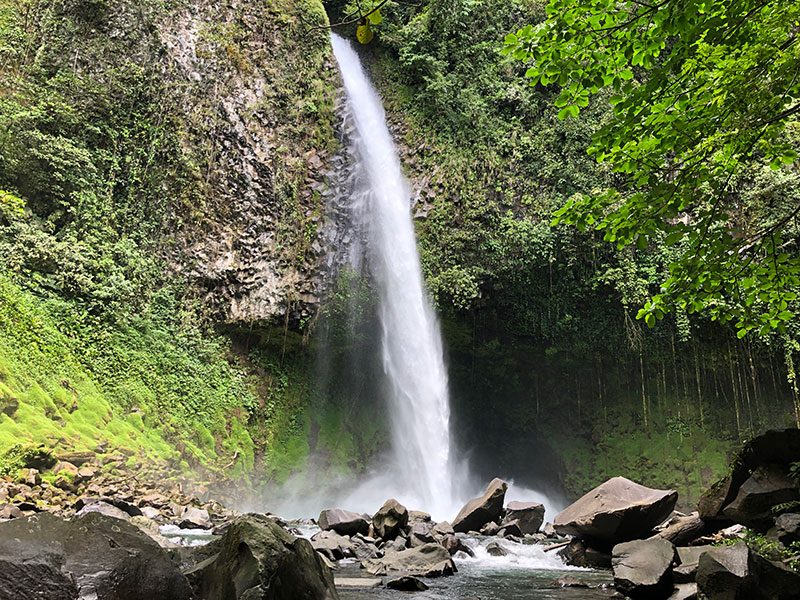 Being on the edge of Arenal National Park, nature abounds here. This was the only place in Costa Rica where I saw a Blue Morpho butterfly. Howler monkeys are common and you never know which bird species you'll see. There's even an orchid garden on the property.
One drawback to visiting waterfalls in Costa Rica are the fees. Most of the big ones are privatized. It's $18 USD for entry to La Fortuna Waterfall, open 8 a.m. to 4 p.m. seven days a week.
To be fair, the facilities are excellent with clean bathrooms, hot showers, and a snack shop. The stairs down to the waterfall are sturdy and safe. There are staff members down at the waterfall making sure people are being safe.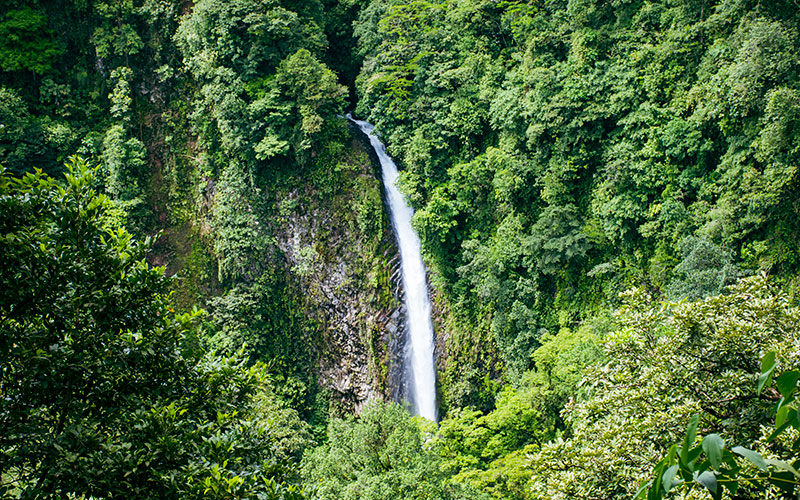 One important thing to talk about is the stairs. To get to the waterfall from the parking area, visitors have to walk down, then back up, hundreds of stairs. Depending on your state of fitness, the hike back up can be a workout.
There are many, many other waterfalls in Costa Rica and not all are on the map. Being friendly with locals can help you find semi-secret places that aren't overrun with tourists. An unmarked trailhead led to this gem near Playa Guiones.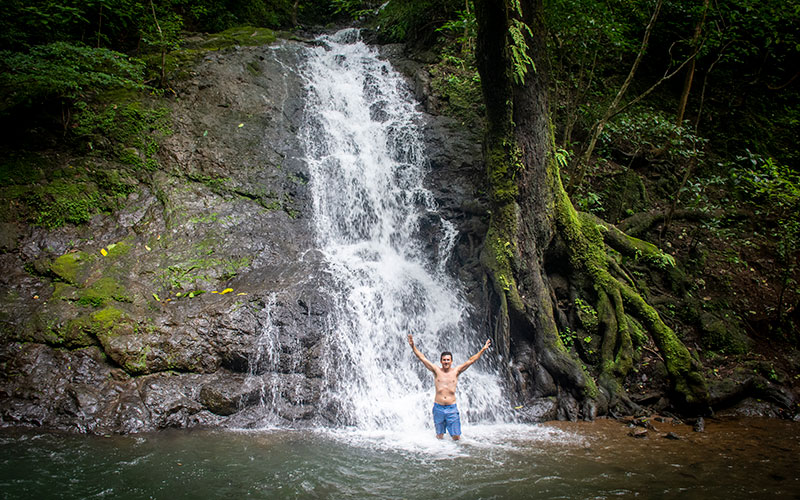 Unfortunately my attempt to visit Llano de Cortes waterfall was thwarted because the property was closed due to high water after a storm in the rainy season. Just outside of Bagaces on the Pan American Highway, Llano de Cortes is a great stop on the drive from the Arenal area to Liberia or Tamarindo, or vice versa.
The busiest waterfall destination in Costa Rica is La Paz waterfall, which is close to the capital city San Jose.
So no matter where you are in Costa Rica, a waterfall with your name on it won't be far away.