In October of 2017, at 37 years old, I bounced through South East Asia while seeing seven countries in seven weeks. It began in Hong Kong and continued to Vietnam, Cambodia, Thailand, Malaysia, Singapore, and Indonesia.
I felt compelled to document the great memories and new things learned about various cultures. So I created a 34-page photo book documenting these important personal moments.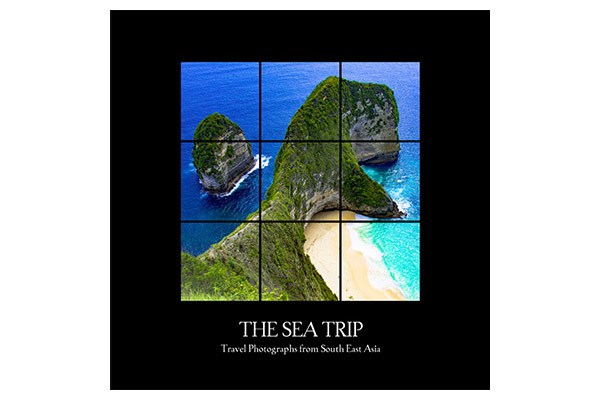 The following is an abbreviated version of the text from the photo book with select images.
HONG KONG
The first chapter of 2017 S.E.A. Trip unfolded in the Pearl of the Orient, Hong Kong, where I arrived to a warm welcome from friends and hosts Andrew and Caitrín. The newlyweds live on the top floor of a high-rise building in the Sheung Wan neighborhood of Hong Kong.
Andrew and I would watch World Series games between the Dodgers and Astros in the mornings at the apartment, then go exploring in the afternoons. One day we took a ferry and went hiking on Lamma Island. The next day we hiked to the top of Victoria Peak and ate lunch overlooking the city. Other highlights included an authentic Octoberfest party, a visit to the famous Happy Valley horse track, and a visit to Hong Kong's aquarium street in Mong Kok.
VIETNAM
I arrived in Ho Chi Minh City on Halloween. I remember sitting in the taxi from the airport and being amazed by the number of motorbikes on the road. I had never seen anything like it. I ate plenty of phở, drank a good share of Bia Saigon, and fell in love with bánh mì sandwiches. I learned about the Vietnam-American War from the other side's perspective and descended into some of the tunnels used by the Viet Cong to evade capture and launch attacks.
After Ho Chi Minh City I spent three days in the Mekong River Delta on my way upriver to Cambodia. At the floating market in Can Tho we were offered everything from pungent durian to Vietnamese style drip coffee.
CAMBODIA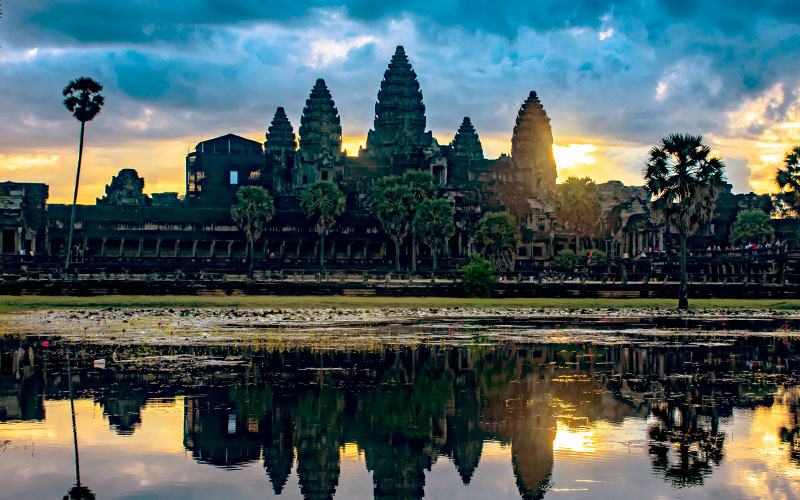 I crossed the border into Cambodia by boat and spent a couple days in Phnom Penh at the sites connected to the Khmer Rouge's terrifying genocidal reign. It was then off to Lolei where I stayed with Sovannarith Sok's family while doing volunteer work at his english academy. It was a week of teaching english in the classroom on weekdays, completing building projects on the weekends, and learning about Cambodian culture at night. There were a few other volunteers at the homestay so when it was time to leave Lolei, we traveled together to Siem Reap and toured the Angkor Wat temples the next day starting at sunrise.
I spent more time in Cambodia than any other country. Most days were filled with joy and wonder but one day in particular brought deep sadness. Outside Phnom Penh are the Killing Fields (bottom left), a mass grave site and scar from the Khmer Rouge atrocities of the 1970s. Today it's a memorial for the victims and a powerful reminder of humanity's dark side. In the city there is a museum at a school that was used for torture and executions. Awful stuff. Not far away from Prison S21, I stayed in a section of the city with Parisian style corner cafes, a remnant from the French Indochina colonial period. The city's Central Market was a short walk from my hotel, as was the Royal Palace (right). The first monkey I saw in South East Asia, – the first of hundreds – was on a Phnom Penh city street. A student from Lolei village. Ta Phrom temple at Angkor Wat.
THAILAND
Khao Sok National Park was my first destination in Thailand. One night I slept in a lake house floating on giant tree logs (above) where in the morning we saw gibbons swinging in the canopy high above. The lake itself resembled a prehistoric landscape. On the boat safaris we would seek out giant hornbills or stop and listen to the calls of the gibbons carry over the still water.
I had been lucky avoiding major rain storms until I made it to the beaches in Thailand. It rained for most of an entire week as I moved from Phuket to Ko Phi Phi to Ao Nang and Krabi. There were two mostly dry days when I was able to swim with black tip reef sharks in Phi Phi and put my feet in the sand on the beautiful Railay Beach in Krabi Province. In Phi Phi, the rain didn't stop the party.
MALAYSIA

In Kuala Lumpur I found modern comforts that I hadn't seen since Hong Kong. That included a hostel with an Infiniti pool, sampling the city's many chic rooftop bars, and a nice dim sum meal at the modern mall. I also photographed the Petronas Towers, which were the world's tallest building from 1998 to 2006. The Batu Caves is one of the most holy Hindu sites outside of India.
SINGAPORE
My time in Singapore was brief, lasting a not-so-lengthy 48 hours. The wealthy global trade hub lived up to its reputation for being a clean, safe, and expensive city. From my hostel headquarters in China Town I could walk to Marina Bay for photographs and take the train to the Gardens by the Bay, which are advertised as the worlds' largest greenhouses. My travel budget survived Singapore thanks to a "no beer" policy, and relying on a diet of delicious, cheap Chinese food.
INDONESIA
Half my time in Bali was wiped out by a knee infection that required multiple days of antibiotic injections at the medical clinic in Kuta. Once the pain and swelling began to subside, I did my best to make up for lost time. I took a bus to Ubud where I walked on paths through rice fields, hiked to the summit of an active volcano, survived the Monkey Forest Sanctuary, and rode a motorbike to a nearby waterfall. From Ubud I returned to the coast and hopped on a ferry to Nusa Penida. Penida is where you can find Kelingking Beach, a location made famous by Instagram.
Getting around by motorbike is the way to go in South East Asia – especially Bali – although conditions can get messy from time to time. To get to the top of Mt. Batur, however, I had to use my feet. A hike in the darkness to the summit of this active volcano was worth it for the sunrise views.
When it was time to leave Bali, it was not for another country this time. It was time for the long flight home. The end of the journey had finally come.