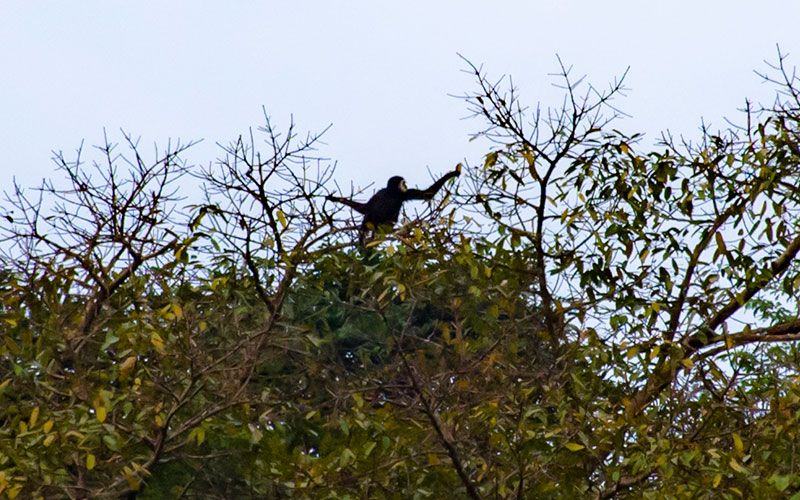 At the local zoo where I grew up there was a place called Gibbon Island.
It was a zoo like many others, with typical displays of big cats, elephants, and other exotic species. But my favorite exhibit was always Gibbon Island because it was a place where the primates roamed free, swinging from tree to tree around the island. From an eight year old's perspective, they sure looked like they were having fun.
So when I was traveling through Thailand and learned that I could see Gibbons in their natural habitat, I just had to go for it. The place was Cheow Lan Lake inside Khao Sok National Park [Google Map], a nature preserve that contains a good chunk of Thailand's last virgin rainforest.
The lake itself was magnificent. Surrounded by massive kharst formations and dense jungle, the environment felt Jurassic. We boarded a long tail boat and headed towards our floating lodge deep inside the preserve.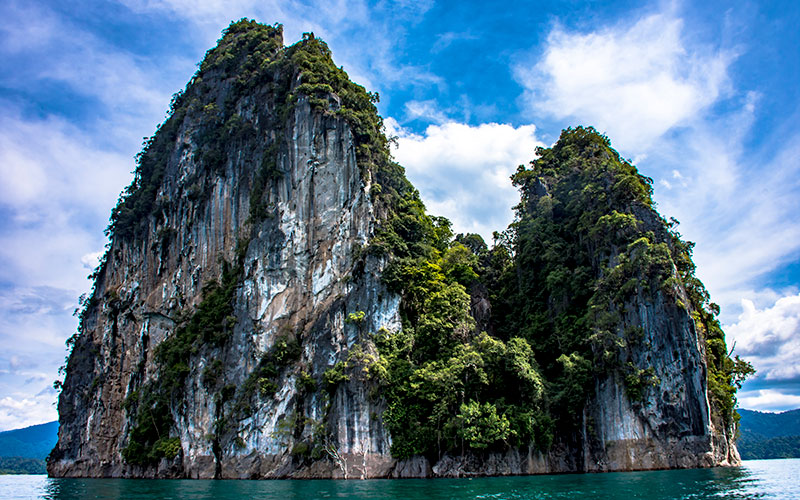 It was at our lodge that we caught a glimpse of the gibbons. High in the trees above the shoreline, a group of four or five gibbons made their presence known with their calls and shaking tree branches. For a few brief moments, two of them emerged from the canopy searching for food. I had my camera with me and quickly snapped a few photos. After about 15 minutes the gibbons had moved on away from the shoreline.
Soon we were on the boat again on our way to explore an underground river. Donning head lamps and rubber boots, we entered a cave and ventured two hundred meters through flowing water.
The next day we stopped at another cave, this one cavernous and dry.
There was just a little bit of downtime at the lodge. Kayaks were available to use, and swimming in the warm, emerald green water was amazing.
Besides the gibbon sighting, we saw hornbills and macaque monkeys, and enjoyed an enchanting concert of cicadas on a sunset boat safari. We didn't see any more gibbons but we did hear their hooting calls again on a couple occasions. Although rarely seen, Khao Sok National Park also contains tigers and elephants.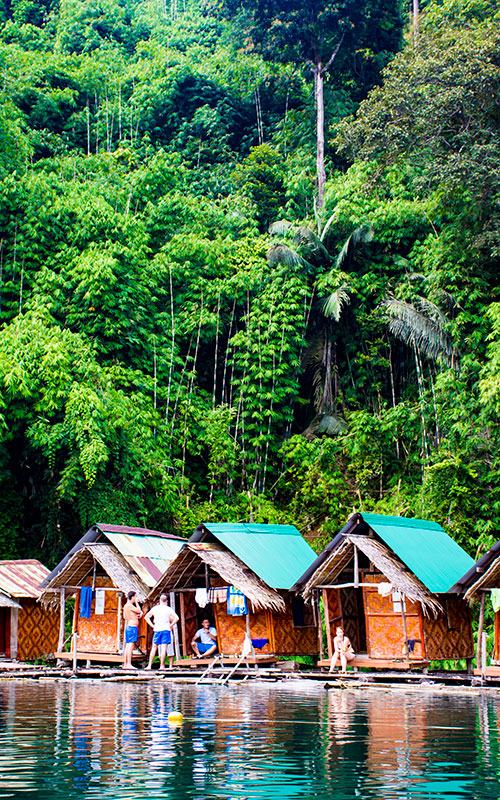 Khao Sok is located in Surat Thani province. It takes about three hours to drive from Phuket or two hours from Surat Thani town. Add an hour or longer if you're taking a bus.
My hostel was uncrowded and the staff was helpful arranging the tour to the lake. The overnight trip cost $75 and included round trip transportation to the lake from the hostel, plus meals, national park entrance fee, and the lodging + activities.